FBI failed sting of joe conforte
March 11, 2021 – by Oscar Dey Williams
In the election of November 1974, Clark County, Nevada voters replaced Conforte's man in the district attorney's office, Roy Woofter, with George Holt.
Three weeks later, after Joseph Conforte met with Johnny "Keys" Simone in Palm Springs, California, Conforte met with Frank Bompensiero in Bompensiero's home turf of San Diego. At the time, Conforte and various members of the Mafia worried that Bompensiero was a snitch for the Feds.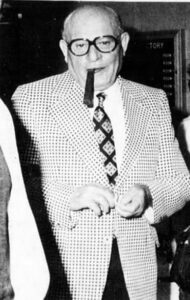 According to FBI files, Bompensiero asked Conforte if he wanted George Holt out of the picture.
After Conforte met with Bompensiero, Roy Woofter contacted Conforte about a rumor he (Conforte) put a contract out on Holt. When Conforte heard this, he was certain Bompensiero was working for the FBI.
Verification and clarification of this incident was printed in the Reno Evening Gazette article, "Murder contract revealed," February 24, 1978, page 1:
A reputed Mafia informer… tipped the FBI about a purported contract on the life of Clark County District Attorney George Holt put out shortly before he took office, Holt said.
The tip came from the FBI in San Diego and was relayed by Frank Bompensiero… Following the warning, Holt and his family spent two weeks in another state… and returned to Las Vegas the night before he was sworn into office.
The $5,000 contract allegedly was offered by a person currently living in Nevada, Holt said, but he declined further comment on the person's identity.
"Once I was sworn in there was no problem," Holt said. "I knew they wouldn't kill me after I was sworn in."
"They could have brought charges if Bompensiero had been in a position to testify," he said. "But he wasn't. He would have been killed. And apparently this Bompensiero had been an informant for years. That's another reason they couldn't prosecute anything because it would have burned this informant," Holt said.
Sources:
FBI interviews of Joseph Conforte, January 18-26, 1983, Rio de Janeiro, Brazil

"Murder contract revealed," Reno Evening Gazette, February 24, 1978, page 1
Topics: Mafia | Nevada | Murder Contract | Entrapment | Oscar Dey Williams