Tony "The Ant" Spilotro
June 14, 2021 – by Oscar Dey Williams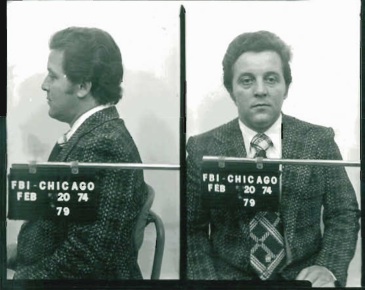 "Spilotro has been tried for killing an informer with an ice pick (he was acquitted) and suspected by the FBI of eliminating Mafia foes with bombs and bullets. He went to Las Vegas about five years ago and by 1975 was overseeing the Outfit's operations in the city. Stocky and short (5 ft. 4 in.), he came on as a swaggering, street-wise punk. Introduced to a federal agent one day at the Las Vegas airport, Spilotro looked him coldly in the eye, stuck out his forefinger and moved his thumb up and down like the hammer of a gun." ("The Mafia: Big, Bad and Booming," TIME, May 16, 1977)
"[Anthony] Spilotro . . . watches over the Chicago Mob's investments in Las Vegas casinos and controls loan sharking, narcotics, and prostitution along the Strip. . . . Says a Justice Department official: "[He] has become the most powerful man in Las Vegas, next to Moe Dalitz [a legendary mobster on the Strip]. Spilotro takes a cut of all illegal activities of any consequence."" ("The Mafia: Big, Bad and Booming")
Anthony Spilotro managed the Chicago Outfit's illegal casino profits (the "skim") in Las Vegas within The Stardust, The Fremont, The Hacienda, and The Marina.
He formed the "Hole in the Wall" Gang, a group of experienced thieves, safe crackers and killers.
By the time of his death in 1986, the FBI suspected Spilotro was involved in 22 or 25 murders.
Actor Joe Pesci played Tony Spilotro in the move Casino.
The Conforte Connection:
Joseph Conforte does not claim to have met Tony Spilotro, but they had a few mutual acquaintances and certainly knew of each other.
The sister of a close friend of Conforte's lived half a block from Spilotro's Las Vegas home.
Conforte was acquainted with one of Spilotro's soldiers named Christopher George Poulos, aka Chris Petti who was also an associate of San Diego Mobster Frank Bompensiero.
Conforte loaned money and gave advise to Bompensiero who was a partner in various crimes with Spilotro, including loansharking and murder.
Las Vegas attorney Oscar Goodman represented Spilotro. Oscar Goodman and attorney Harry Claiborne both defended Sally Conforte and had worked together on a number of criminal defense cases. Claiborne became a federal judge in Nevada in 1978. According to Joe Conforte:
"One time with Spilotro, they had a search warrant for his apartment, on a burglary case. Harry Claiborne had to sign all the search warrants because he was the chief judge. Before the search warrant was served, everybody skipped. What else could have happened? Harry called Goodman, and Goodman called those guys, and those guys took the evidence out before the warrant was served. Harry and Goodman were like that."
Conforte was also friends with Clark County District Attorney Roy Woofter (1971-1975) who, in 1971, dropped charges of vagrancy against Spilotro. Joe Conforte explained what happened:
"As I told you, it's the truth, I'm not a Mafioso. I don't belong with them but I know em' all okay. I mean, the ones that's still alive and the ones that died. Okay. I'm the guy that got Spilotro out of jail, okay, because I had friends in Vegas that helped. I'm just, I'm just telling you not as to brag about it, merely to tell you what the facts are. Okay. Nothing else. Not to brag."
Conforte's actions beg questions: Why did he help Spilotro? What did he get for it?
Conforte has not answered or been asked such things, but it's a safe bet it was a favor that Spilotro owed as insurance to not kill Conforte, or to drive out his prostitutes from The Strip or tax them.
Spilotro and his brother Michael disappeared on June 14, 1986. On June 22, their bodies were found, one on top of the other and stripped down to their undershorts, buried in an Indiana cornfield. An autopsy identified their cause of death as blunt force trauma, and ascertained that they had been dead since June 14. They were identified by dental charts.
Sources:
__, "The Mafia: Big, Bad and Booming," TIME, May 16, 1977, pages 8-9
Joe Conforte and David Toll, Breaks, Brains and Balls, Virginia City: Gold Hill Publishing Co. Inc., 2011, Kindle Edition
John L. Smith, Of Rats and Men, Las Vegas: Huntington Press, 2003, page 58
Author interview of Joseph Conforte, August 12, 2001, Rio de Janeiro, Brazil
Topics: Mafia | Chicago Outfit mobsters | Murdered American gangsters of Italian descent | Oscar Dey Williams