HIDING IN PLAIN SIGHT
July 20, 2021 – by Oscar Dey Williams
According to Joseph Conforte, Rio de Janeiro is "paradise on earth". He started visiting Rio de Janeiro in 1972 on a vacation and loved it so much he eventually bought a two-story penthouse with a rooftop hot tub in São Conrado, a tony beach side enclave.
São Conrado is near to a golf course and the Fashion Mall. There is a walking strand along the shore with restaurants and shops, and paragliders that fly overhead.
Conforte enjoys Monday nights at the Hipódromo horse race track (Gávea) and midweek bridge play in Rio's Bridge Club (Copacabana).
He has a hidden business interest in a restaurant and a brothel. And he's the majority shareholder of the Brazilian-based A.G.E. Corporation.
Conforte is the father of Brazilian born-children: Gino (1979-1995), Francesca (1993-), and Annabella (1995-).
1981 to 1983, Conforte lived in São Conrado full-time as a fugitive of U.S. justice.
He became a permanent resident of Brazil in 1991, years before the Feds realized that he and Sally had swindled them. The intrepid work of IRS Special Investigator Kemp Shiffer exposed the ruse, resulting in the 1995 indictments of Conforte and his attorney, Peter Perry, and warrants for their arrest. Sally died in 1992.
"On the withholding tax beef they could never bring me back, because Brazil doesn't have those same laws." ~Joe Conforte
In an advertisement Conforte placed in the Reno Gazette-Journal, he said: "I will be coming home at the proper time and when my doctors will allow me to travel and will meet all my obligations. I want to die on the country that I love. I want to be placed next to my wife and departed father… And if I don't make it home by Christmas, there will still be a thousand turkeys given to the needy." Sincerely, Joseph Conforte, 4 December 1996
In 1998, the Justice Department filed superseding indictments in the Conforte-Perry case that added the A.G.E. Corporation, its foreign shareholders, and two Mustang Ranch employees complicit in laundering money for Conforte and either delivering it or sending it to him. Peter Perry and the Mustang employees were arrested. Interpol flagged Conforte for arrest.
In August 1999, the Mustang Ranches were seized and closed by the Feds. In December 2002, the IRS auctioned off all brothel items, and also buildings and parcels of Conforte-owned real estate.
During this period, between 1996 and 1999, Joe skipped around Central and South America and spent several months in Cuba. When he eventually returned to Brazil, he was arrested but was then quickly released. The Brazilian Supreme Court had ruled that Conforte could not be extradited.
"The man stayed a step ahead of us the entire time. I worked that case for thirteen years…" ~Kemp Shiffer
Conforte was a free man once again, and one of the big fish to the U.S. Justice Dept who got away with his major crimes.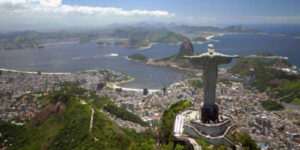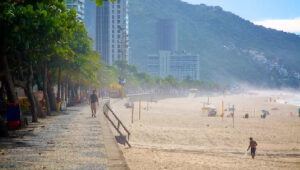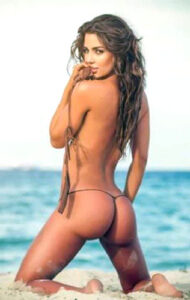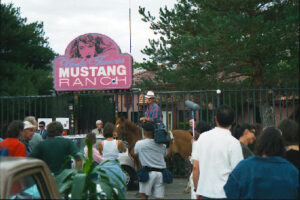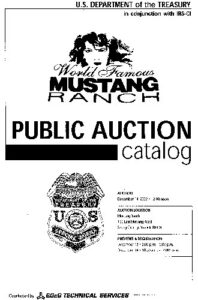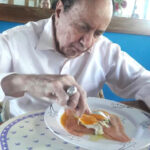 Sources:
Patrick O'Driscoll, "Brothel owner wants to return to Brazil," Reno Gazette-Journal, December 16, 1983, page 1
Joe Conforte and David Toll, Breaks, Brains and Balls, Virginia City: Gold Hill Publishing Co. Inc., 2011, Kindle Edition
[stats on Sao Conrado]
Author interviews of Joseph Conforte, Rio de Janeiro, August 2001
Erin Breen, "Conforte in EXILE," Reno Gazette-Journal, May 30, 2004, page 10
Helen Manning, "Conforte located in Brazil; officials studying extradition," Reno Evening Gaztte, May 31, 1982, pages 1 and back
Mike Henderson, "Mustang Ranch players on trial," Reno Gazette-Journal, June 20, 1999, pages 1, 14
CNBC/American Greed (March 3, 2009)
Faith Bremner, "Mustang Ranch's Sally Conforte dead at 75," Reno Gazette-Journal, page 1
Steve Timko, "Conforte, lawyer charged with fraud," Reno Gazette-Journal, June 19, 1998, pages 1, 4
United States v. Joseph Conforte, Peter A. Perry, (U.S. District Court – Reno, Nevada, December 15, 1994) CR-N 95-00049 HDM
Conforte Ad, Reno Gazette-Journal, December 4, 1996, page 3
Steve Timko, "Conforte faces deportation from Chile as 'undesirable'," Reno Gazette-Journal, February 22, 1997, page 1
Mike Henderson, "Conforte whereabouts remain unknown," Reno Gazette-Journal, August 7, 1998, pages 1, 8
Mike Henderson, "Brazil won't return Conforte," Reno Gazette-Journal, October 23, 1999, page 1
Mike Henderson, "Feds lock door at the Mustang," Reno Gazette-Journal, August 10, 1999, page 1
Carla Roccapriore, "Crowd gallops to defunct Mustang Ranch," Reno Gazette-Journal, December 15, 2002, pages C1, 4
George Knapp, "One-on-One with Mustang Owner in Brazil," KLAS-TV Ch. 8 (Las Vegas), May 1, 2008
Topics: American brothel owners and madams | American fraudsters | Fugitives wanted by the United States | Oscar Dey Williams